The Township is moving so building renovation can start
Edwardsville Township Relocating to 900 Hillsboro (Madison County Farm Bureau Building) during Township Hall Renovation
Edwardsville Township will be moving to the Madison County Farm Bureau building located at 900 Hillsboro Avenue Suite 4 in Edwardsville at the end of November. The Township Supervisor's office will be open for business the entire time, whereas the Township Assessor's office will be closed November 21st-23rd. The current office at 300 West Park Street will be open until the end of the day on November 23rd. Then after Thanksgiving, starting Monday, November 28th, operations will begin at 900 Hillsboro Avenue.
"We hope to provide a seamless transition for the community as we move into the temporary office space at the Farm Bureau building," said Supervisor Kevin Hall.
To travel from 300 West Park Street to 900 Hillsboro, head a block north to Vandalia St. and then go east. When you reach Hillsboro, turn left (north) and the building will be two blocks down on the right.
There will be partial bus service using the Madison County Transit Bus #22 that runs down St. Louis Street, stops at Vandalia Street and Shell Lane, then there would be a 5 minute walk to 900 Hillsboro.
The Township hopes to start renovations to Township Hall at 300 West Park Street on December 1, 2022.
Christmas Tree Recycling
Edwardsville Township Community Park (Airplane Park)
Located at 6368 Center Grove Road Edwardsville, IL 62025
Drop off available from December 26, 2021 through January 14, 2022
Trees should be placed in the lower lot, near the dumpster. There will be signage indicating the actual place to leave the trees.
Updated 12/26/21
We are seeking a Township Trustee
The Edwardsville Township Board announces the opportunity to be appointed to fill the vacancy of Township Trustee following the resignation of Trustee Charles 'Skip' Schmidt from the Board. The Board approved his resignation at the Wednesday, December 14, 2022 meeting following Schmidt's election to the Madison County Board.
If you would like to apply for this position, please send your letter of interest and resume. The letter of interest and resume should include the following:
Why you want this position
How you would best serve the community in this role
Any past participation in local area community activities
Letters of recommendation are welcome but not required.
Please send your letter of interest and resume to this email address: supervisor@edwardsvilletownship.com or you may drop them off at the Edwardsville Township temporary office at 900 Hillsboro Avenue Suite 4 in Edwardsville by 5 PM on Tuesday, January 3, 2023.
The meeting at which an appointee will be selected to fill the vacancy will be the next Edwardsville Township Board Meeting on January 25, 2023 at 7:30 PM at the Glen Carbon Village Hall.
For any questions, please contact Kevin Hall, Edwardsville Township Supervisor at supervisor@edwardsvilletownship.com or (618) 656-0292.
November 18th Lunch & Learn Opportunity
Please join us at our November Lunch & Learn where we will learn about solutions to food insecurity.
https://www.eventbrite.com/e/lunch-learn-theme-food-insecurity-tickets-444085460567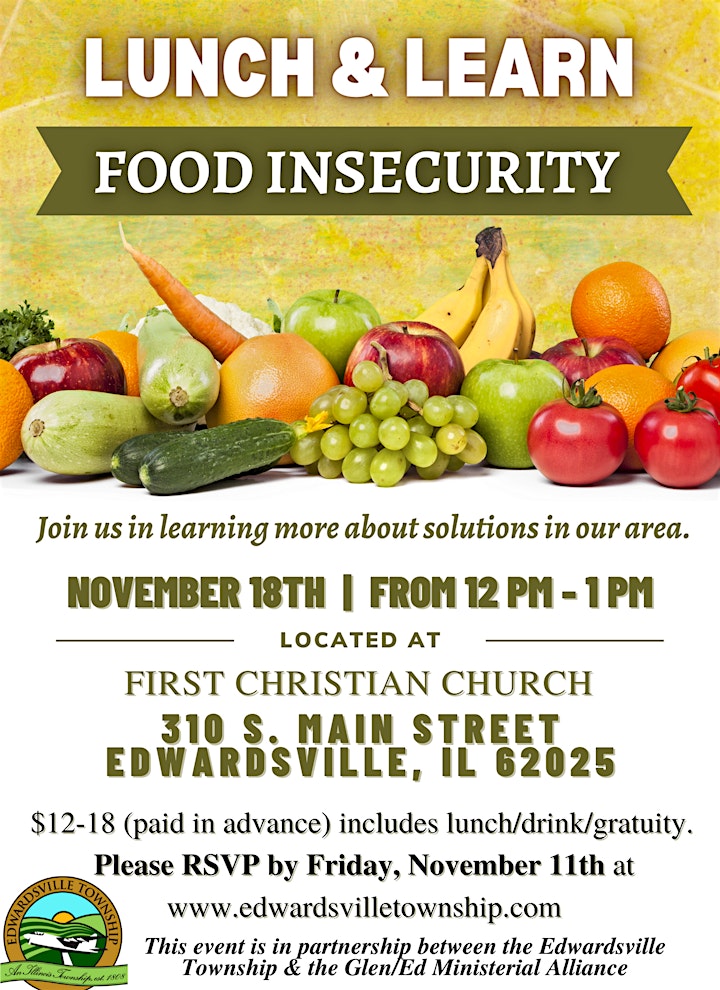 Edwardsville Township Board Approves Renovation & Expansion Bid
After 8 years of work, the Edwardsville Township Board voted Wednesday evening 5-0 approving the bid to move forward with the renovation and expansion of Edwardsville Township Hall at 300 West Park Street in Edwardsville. At the bid opening on Tuesday, three bids were submitted with the approved low bidder being Millenium Construction for $1,385,000.
"Since being elected to the Township Board in 2017, this project has been a weight around the Township's neck," said Kevin Hall, Edwardsville Township Supervisor. "To finally be moving forward and seeing an end in sight; a date where we can better serve the taxpayers of Edwardsville Township with an accessible, modern office is a relief."
The project will bring many improvements and upgrades to the building from the late 1980s. It will include an increase in space, updating to ADA (Americans with Disabilities Act) requirements, upgraded HVAC, plumbing, electrical, lighting and more modern standards.
The project is expected to take around a year to complete with details on groundbreaking still being finalized. The Township Supervisor's and Assessor's staffs will be moving to a temporary location off site during the construction.

UPDATE: ERAP REANTAL AND UTILITY APPLICATION
Effective 7/22/2022, Madison County Community Development will be pausing the acceptance of ERAP Rental and ERAP Utility applications.
Applications currently being processed may not be completed and paid out until further funds have been received by the US Treasury.
Please note that additional funds have been requested by the US Treasury and it is anticipated that they will be issued. We will let you know if and when Madison County Community Development can resume taking ERAP applications.
June Lunch & Learn
Feel free to join us for this month's Lunch & Learn event. Here are the details:
What: 3 speakers will discuss what resources and strategies are available to help with homelessness in our community
Where: Main Street Community Center 1003 North Main Street, Edwardsville IL 62025
When: Friday June 24, 2022
Please go here to signup for the event